And so the day arrived...
After the slightly nerve-wracking dress rehearsal, on Monday 7th November we had a fantastic rehearsal back at BWAFE HQ. Everything came together, and confidence levels and morale were high - it was a great place to end two-and-a-bit months of rehearsals (which isn't very long when you meet for two hours once a week!). We ran Brushstrokes right through, recording it to listen back to in the week. Those recordings were important for our very valued long-distance members who join us for concerts but can't make all rehearsals. It also gave Liz an opportunity to give us some detailed notes on the five movements, based on the recordings, so we could improve right up to the day of the premiere.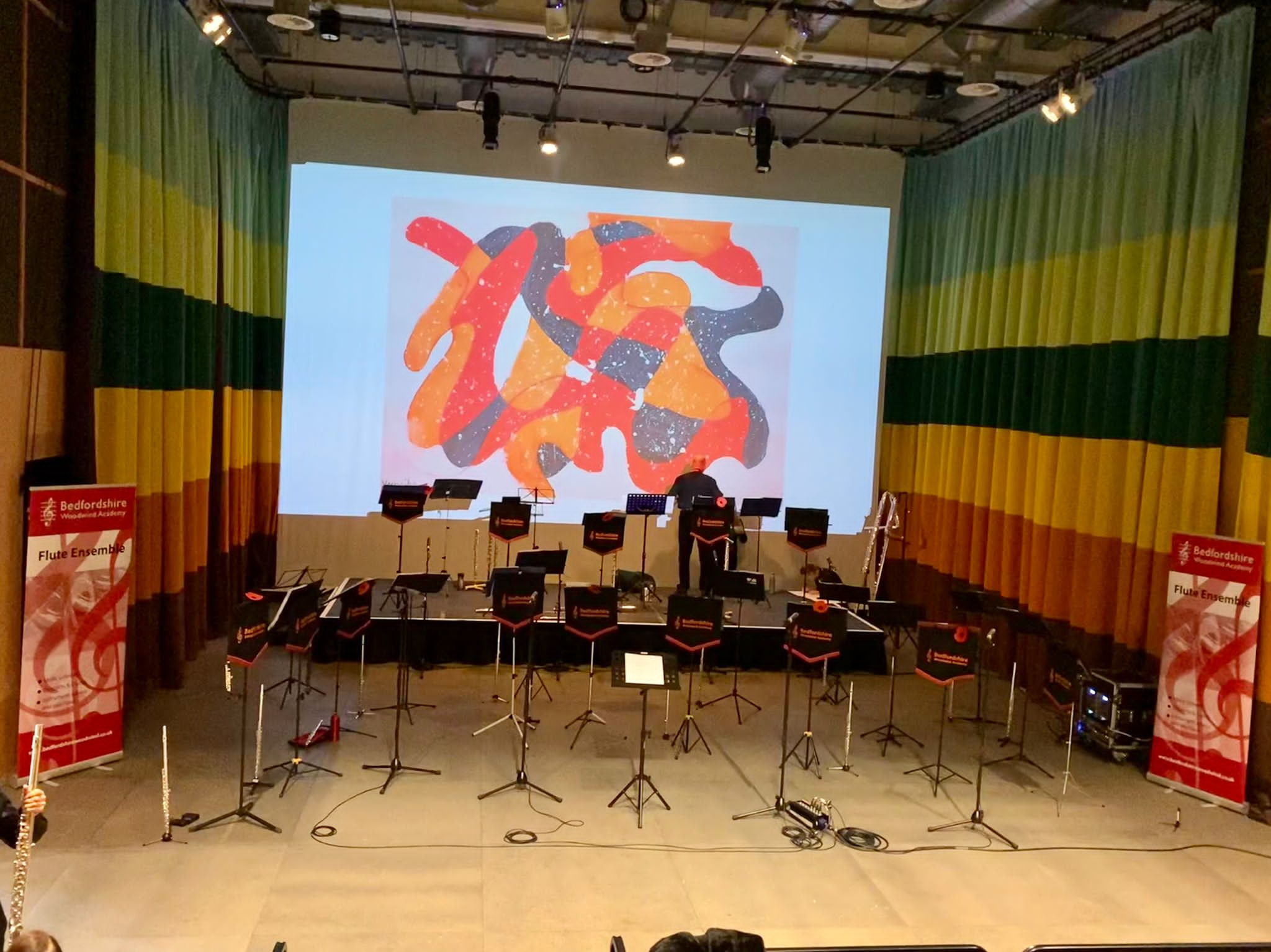 On 13th November, we headed to the Sky Room of Milton Keynes gallery. With Edgar there waiting for us, along with our lovely Making Music Mentor, Jenni - and Edgar's wife Emily joining our first flutes, it was suddenly very real. Then, time t

o set up, warm up and dress up - that's right, our traditional red ties were gone, replaced with ones in the five different colours of the suite - the word snazzy does

not

do us justice.

Soundcheck and a partial play-through done, we cleared the room to let our audience in. We pretty much had a full house!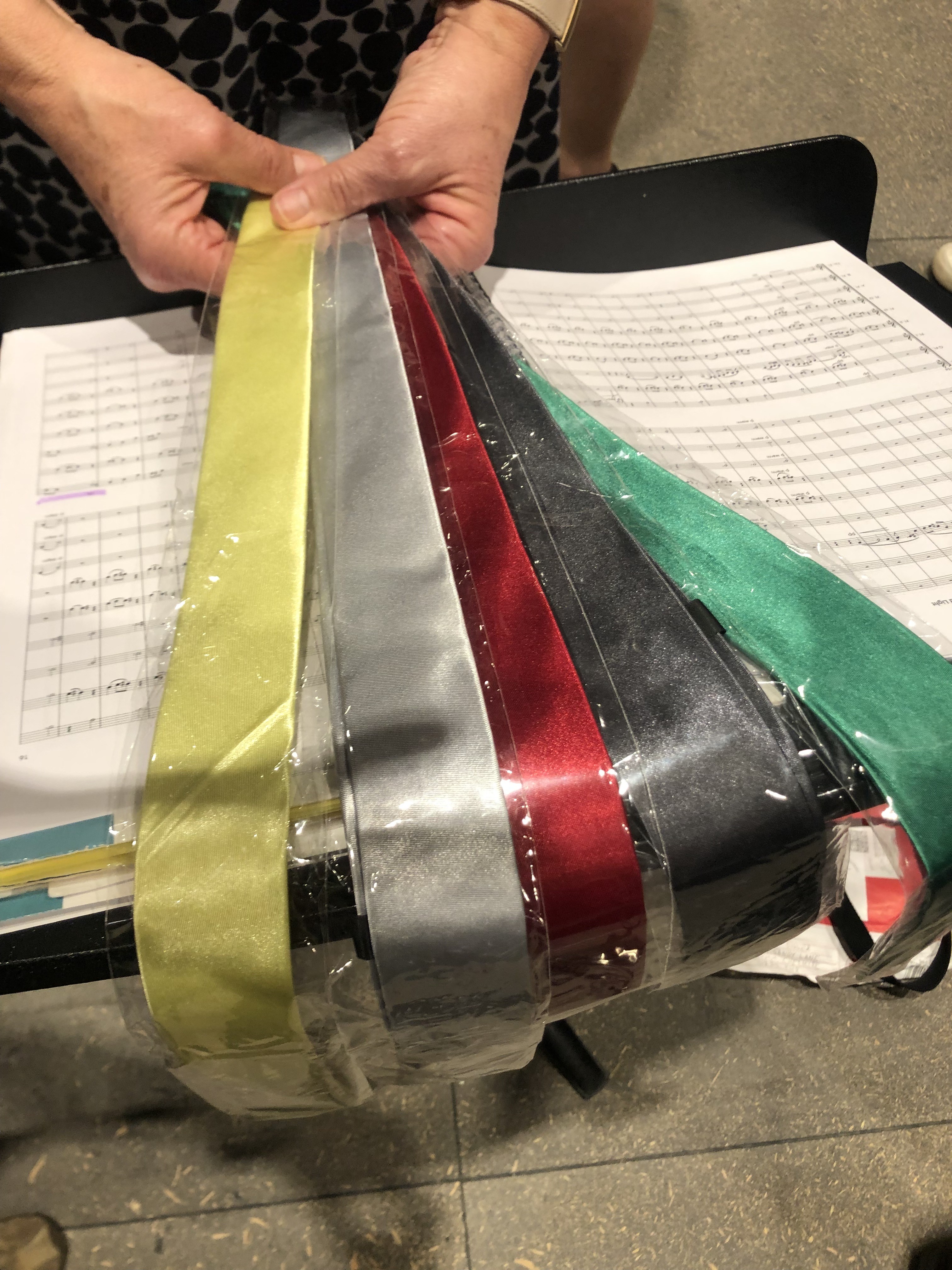 We began with our performance of Shostakovich's Ballet Suite, fresh from the recent Bedfordshire Festival of Music, Speech and Drama's Centenary Concert, followed by a new favourite - The Teddy Bear's Picnic.
Jenni then introduced Making Music and explained what the Adopt a Music Creator project was about, and how we'd all worked together over the past few months. Edgar then introduced Brushstrokes, from where his original idea to put paint shades to music had come from (thank you Emily), to how he had worked with the Ensemble to establish sounds and themes, creating the full suite from there. He illustrated this with excerpts from each movement that honed in on elements the audience could listen for later - the Contrabass and Bass sounds in Elephant's Breath, and the eerie combination of the Piccolo, G-flute and Altos in the opening bars of Red Earth, for example.
And then - we played. It's difficult to recall much of the performance - concentration levels were at an all-time high - and none of us could believe how quickly it went: Green Smoke, Elephant's Breath, Red Earth, Borrowed Light and Citron, the now familiar sounds finally premiered! You don't need to hear it from us anyway - we had a fantastic reaction from everyone and so it's probably a good idea to hear from the audience:
"I loved Green Smoke, it was spooky and really different", Flynn 15.
"In contrast to the rather muted colours that inspired Brushstrokes, the Bedfordshire Woodwind Academy Flute Ensemble's performance was vivid and rich. Each movement told its own distinct story from swirling scales of Green Mist and commanding weight from the bass flutes in Elephants Breath to the discordant rhythms of Red Earth. Borrowed Light provided a soothing ethereal interlude before an eye-watering squirt of Citron rounded off the piece. Fantastic!"
"Atmospheric"
"…an interesting concept and a very entertaining piece of music"
"Imaginative and very enjoyable"

"Amazingly clever" Samuel (15)

"Liked the fluidity between the pieces" Jasmine
"Edgar's talk at the beginning, with little snippets of the piece, really helped me to understand it and know what to listen out for."
"Great performance – I'd love to hear it again"
"We very much enjoyed the whole programme - something for all the family."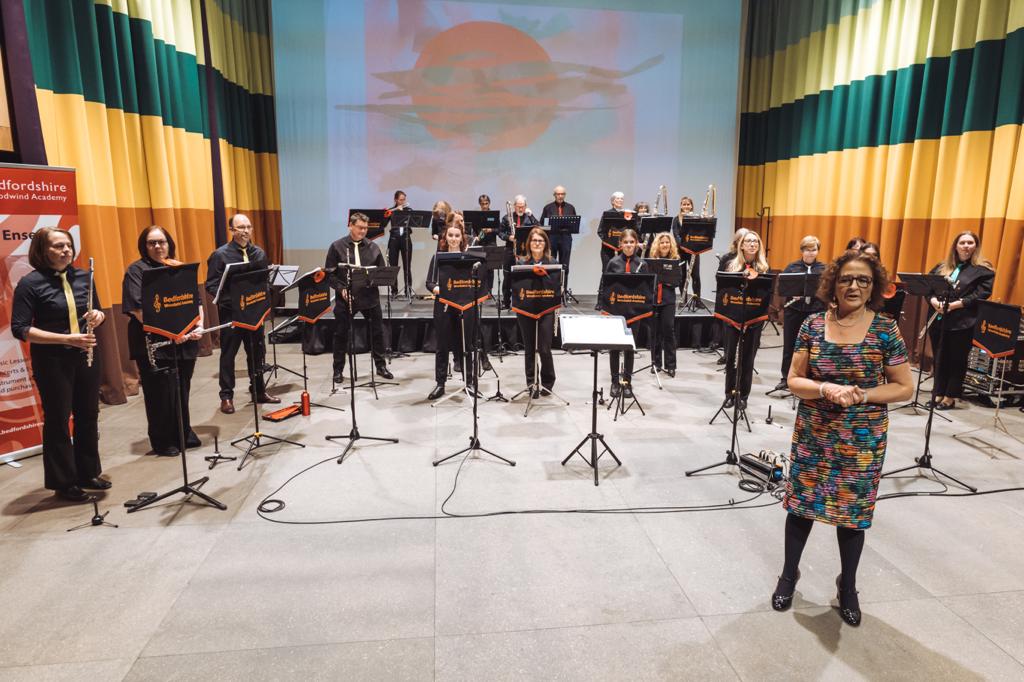 As the notes and clapping died away, Edgar took his much-deserved bow and we presented him with a framed promotional poster of his Brushstrokes suite.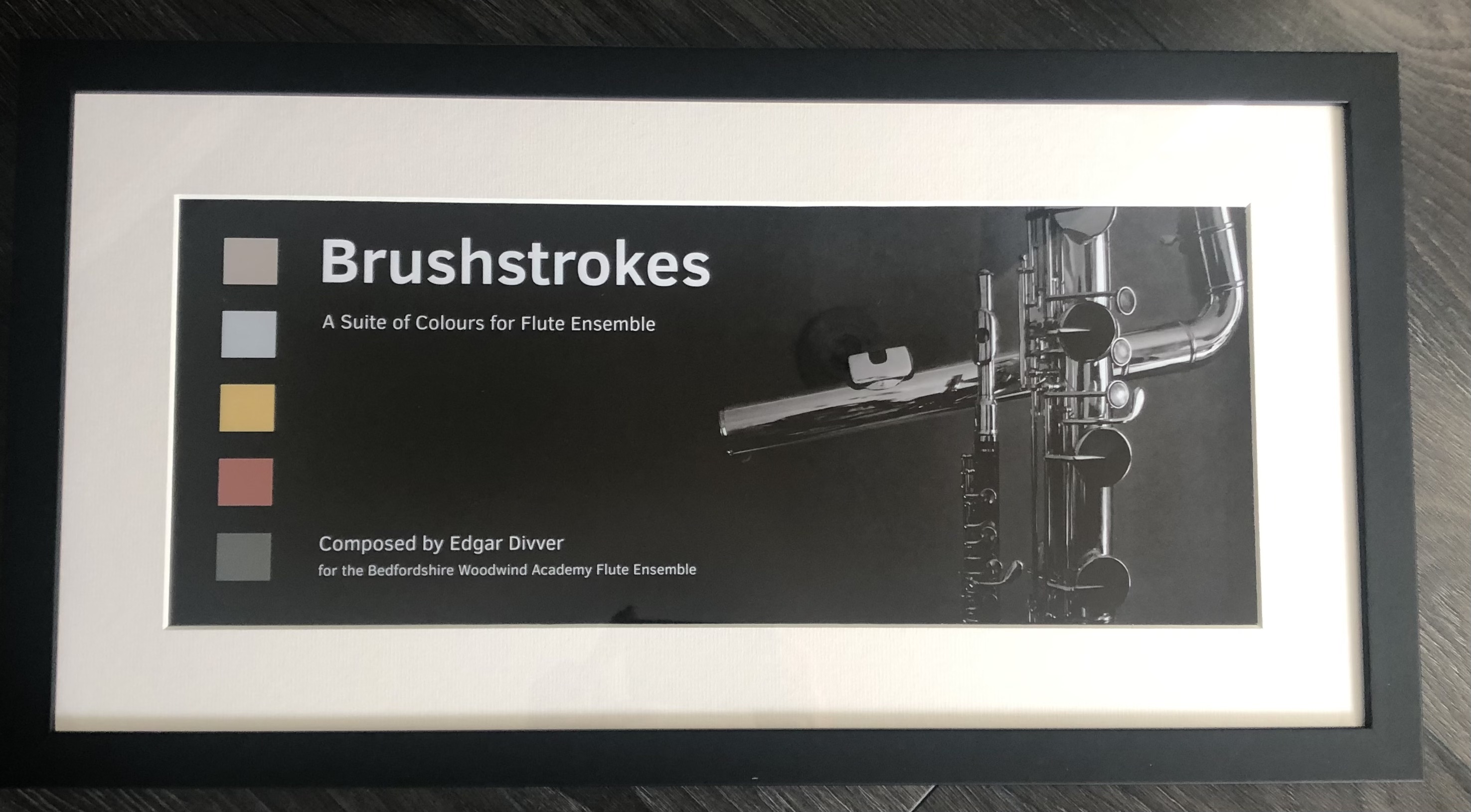 And we ended the performance with our signature tune: You've got a friend in me, much to the delight of the youngest members of the audience!
And relax...The heady combination of a glass of wine and a slice of Colin the Caterpillar (other caterpillar cakes are available) was enjoyed by most of us before heading home - tired but happy.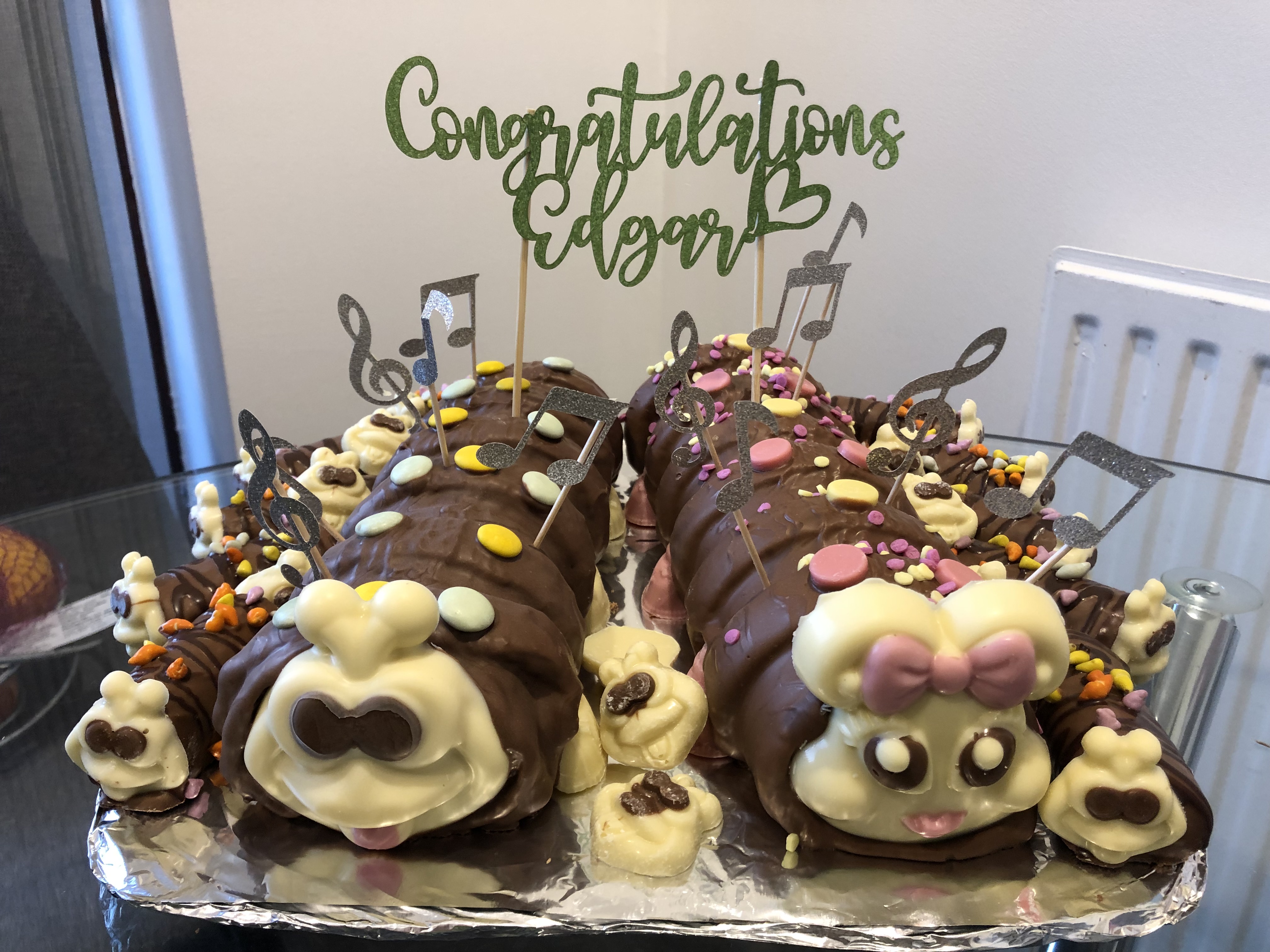 This is another opportunity for us to say a huge thank you to Jenni and Making Music for all their support, and for creating this unique project that is so valuable in so many ways. And to Edgar for his open-minded and generous approach to working with a group of people he had never met, for his hard work, creativity and trust in us.
And, as with everything that we do, none of it would be possible without our Musical Director Liz for taking us through this process step-by-step, week-by week and bringing Edgar's notes to life, with almost un-ending patience...
So, what next? Well, that would be Brushstrokes' premiere on BBC Radio 3! Watch this space for more information soon...
Rebecca Demott